Brighton Park Animal Hospital
At Brighton Park Animal Hospital Our Services Include:
ROUTINE SIX-MONTH WELLNESS EXAMINATIONS

We recommend routine six-month pet check-ups in order to detect and treat any abnormalities before the conditions become too far advanced and untreatable.
IN-HOUSE FULL SERVICE DIAGNOSTICS

Which includes an IDEXX LaserCyte Complete Blood Count & Dry Chemistry machine which will give complete blood analysis within ten minutes in order to quickly & appropriately start treating your pet.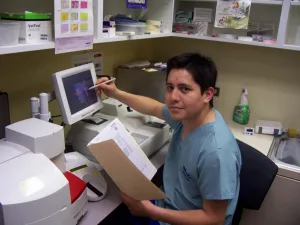 RADIOLOGY

High-quality X-rays to quickly confirm any bone fractures or any soft tissue density abnormalities or any intestinal blockages or foreign bodies your pet may have swallowed.
ROUTINE YEARLY VACCINATIONS

Customized vaccination protocols based on your pet's lifestyle and risk-exposure potential.

SPAY/NEUTERS
SOFT TISSUE SURGERY
EAR CROPS
TAIL DOCKS
DECLAWING
PROFESIONAL DENTAL SCALING & POLISHING

Over 80% of pets have some stage of dental disease. A professional ultrasonic dental scaling & polishing will treat and prevent any advancement of periodontal disease as well as minimizing the undesirable pet bad breath.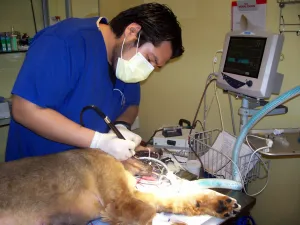 Daycare & Training
Complete Diagnostics
In-House Blood Tests
X-Rays
Geriatric Pet Health
Vaccinations
Spay/Neuter
Tail Docks
Ear Crops
Declawing
Boarding
Grooming
Our appointment book is computerized which allows us to efficiently make appointments for you and your pet. Our receptionists and team will attempt to accommodate all requests to the best of our ability. Emergencies are accepted anytime our clinic is open. If you feel you have an emergency with your pet, please call us or come to the hospital immediately. If possible it is best to call before coming in so that a staff member can advise you on your particular emergency.
We have a veterinarian and personnel on duty 6 days a week who are trained and equipped to handle any urgent care your pet has. Usually an emergency team consists of at least one veterinarian and several technicians working together to save a pet's life. Emergencies can be things such a snail bait poisoning, hit by car, and chocolate ingestion. If you ever feel that your pet needs emergency treatment do not hesitate to call or come in immediately. If possible it is best to call before coming in so that a team member can advise you on your particular emergency.
We are also available for urgent care when the condition is not life-threatening, but you feel your pet needs to be seen before you are able to get an appointment. Our veterinarians will work to "squeeze" you in between scheduled appointments. When you arrive, our receptionists will be able to give you an estimate on how long you may have to wait in order to be seen.
Because a large number of veterinarians practice at Brighton Park Animal Hospital, we can care for many types of pets:
Dogs
Cats
Rabbits*
Pocket Pets*
Reptiles*
Birds*
Small Farm Animals*
*Select veterinarians only. Call us for more information.
Brighton Park Animal Hospital operates an open hospital. This means that our team welcomes owners to be with their animals during any medical procedure, whether a simple vaccination or a complex surgery.
Brighton Park Animal Hospital accepts payment via cash, check, MasterCard, Visa or CareCredit. So that we can continue to provide you high quality service utilizing the best medical technologies, we request that payment be made at the time services are rendered.
We provide estimates for all surgeries and hospitalizations. If you have not received an estimate, you are welcome to request one at any time for your expected charges.
CareCredit for Veterinary health

Whether it's a routine checkup or emergency surgery, you shouldn't have to worry about how to get the best medical care for the pet you love. That's why we're pleased to offer CareCredit®, North America's leading client payment program. CareCredit® lets you say "yes" to the best treatment for your pet immediately, and pay for it over time with low monthly payments that fit easily into your budget.

Learn more by visiting CareCredit.com or contacting our office. Ready to apply? Apply Online for your CareCredit card today.
Brighton Park Animal Hospital offers discounted services to senior citizens and local area rescue groups. Pre-approval is required to qualify for the rescue group discounts, please call us for more information.